Email opt-ins
---
Many things have changed with an online business. One thing remains the same: email is king! Email is still one of the best ways to nurture your audience for sales… and we want to make it easy for you to grow your mailing list. That's why you can add an email signup link to your Kitelink so listeners can subscribe to your list and not miss a thing!
Create opt-ins in your Kitelinks to collect email addresses of your audience via an integrated sign-up form.
Visit your Kitelinks dashboard
Go to the "Appearance tab" => "Email Opt-In Form" and select or create a new opt-in
Optionally, connect any email marketing system (Mailchimp, Aweber, ActiveCampaign, …) via a Webhook and Zapier or similar services.
This feature is available in any paid Podkite plan.
All contacts will bew visible in the Kitelinks contacts page and are optionally synced to your email marketing system. The process is very similar for Mailchimp, ActiveCampaign and all other email marketing systems.
Here is a video tutorial on how to connect Kitelink opt-ins with AWeber:
Visit your Kitelinks dashboard and click the "Create a new opt-in" button.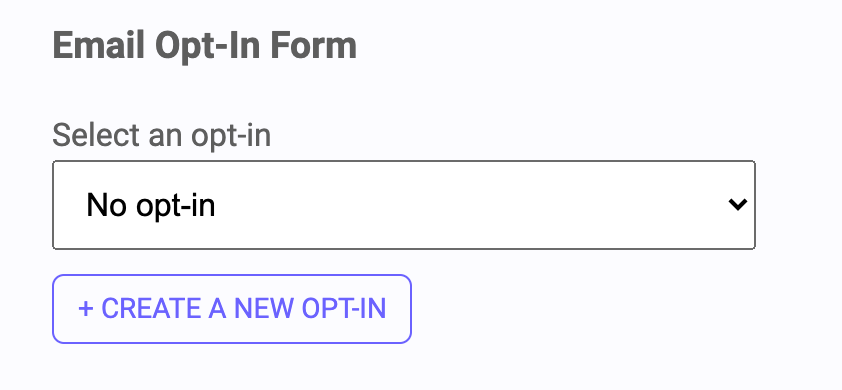 Optionally, if you want to connect your email marketing system, get a webhook URL and connect your email system via Zapier or similar services.

Each time someone enters their email details, Podkite calls a so-called "Webhook" to sync the email details with a different system of choice (email marketing system, Google Sheets, …).

The process is similar for any system:

@Zapier | Create a new Zap; Chose Zapier Webhooks "Catch Hook trigger" and your system of choice (e.g. Mailchimp)
@Podkite | Enter the Webhook URL in Podkite's opt-in form
@Podkite | Click "TEST WEBHOOK"
@Zapier | Finish the setup

Enter your opt-in details:

label: a name of choice
Call to action: why should a listener subscribe to your list?
Title: some more info
TOC / Privacy Policy URL: Subscribers will need to tick a checkbox and accept those
Webhook: A webhook URL (get it via Zapier)